With spring approaching, if you have a Trail Kid on Spring Break and need care, please call the office in advance so we can staff appropriately. Trail Kids are also welcome on Snow Days and Early Dismissal days. Please call in advance. Thank you for your cooperation!
The ELC will be on a 2 hour delay on Wednesday, March 21, 2018. We will open at 9:00 am.
​A Ministry of Boone Trail Baptist Church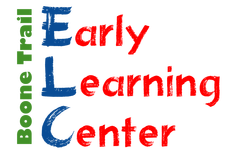 Preschool Classes:TA-Isis Higgins & Megan Franklin
TB- Amanda English & Andrea Hill
2's - Jennifer Chatman Twees - Stacie Porter
3's - Heather McPeek, Sue Knighten & Summer Melson
K4 - Amanda Rhea, Elizabeth Hicks & Tracey Crum
Behavioral Specialist - Danielle Stano
​ We will be serving children ages 5 and up to 5th grade in our Trail Kid program starting back this winter. For availability, please call and ask for November and December days as needed. We need to know in advance to staff accordingly.
Thank you! For your convenience, we are now accepting online payments. Please click here to follow the link. Paying online is just an option, you may still pay in the office check or cash at your convenience.
---
Contact Information:
Jennifer Leonard, Early Learning Center Director
Email: jleonard@boonetrail.net
1985 Carroll Creek. Rd.
Johnson City, TN 37615
Phone: 423.282.2119
Fax: 423.282.9080