For ELC closings and delays check here.
​A Ministry of Boone Trail Baptist Church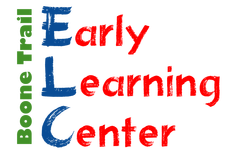 Classes:Toddler Teachers - Amanda English &
Rachel
Fields
2's - Jennifer Chatman Twees -
Summer Melson

3's -
Heather McPeek
& Sue Knighten
K4 -
Amanda Rhea
& Elizabeth Hicks
Trail Kids Summer Program - Tracey Crum

*Also serving children ages 5 and up to 6th grade in our holiday and summer programs. For your convenience, we are now accepting online payments. Please click here to follow the link. Paying online is just an option, you may still pay in the office check or cash at your convenience.
---
Contact Information:
Jennifer Leonard, Early Learning Center Director
Email: jleonard@boonetrail.net
1985 Carroll Creek. Rd.
Johnson City, TN 37615
Phone: 423.282.2119
Fax: 423.282.9080